The Prowler is cross-over between a Jeep and a Humvee.It is used by the
United Planetary Defense
as a light recon vehicle.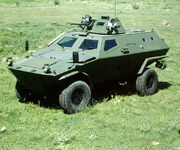 The prowler has been developed by Otokar's research and development team to provide the best solution for the need of the armed forced for wheeled armored vehicles. The prowler attracts interest with its superior maneuvering capability and its high level of ballistic protection as well as its feature of adjustability of the same platform for diverse functions. It provides great facilities in maintenance and service as it is designed on the same framework and infrastructure and it can be manufactured in many models and types. The fact that the infrastructure remains the same even in diverse Prowlers manufactured for different realms, which, in turn, saves from maintenance and repair works and spare parts, makes Prowler an armored vehicle preferred by many armies.
Rubber tire-wheeled 4 x 4 Prowler Armored Vehicle capable of carrying 1+8 personnel is manufactured with the following types. Moreover, it has an amphibious version as well.
Armored Personnel Carrier Vehicle
Armored NBC Reconnaissance Vehicle
Armored Reconnaissance Vehicle
Armored Command and Control Vehicle
Armored Communication Vehicle
Armored EOD Vehicle
Armored Ambulance
Armored 12,7/40 mm Weapon Platform
Community content is available under
CC-BY-SA
unless otherwise noted.