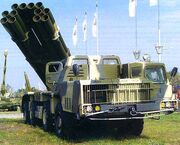 The BM-30 is considered a "Heay" Rocket laucher, it fires 300mm rockets. Firing range is from 20km to 70km. The 9M55K rocket is 7.5m long and weighs over 800kg. It is fitted with either a warhead containing 72 HE-FRAG (High Explosive Fragmentation) submunitions or HE-FRAG separable unitary warhead. A new round callled the 9M528 has been developed which uses a high-energy composite propellant which will give an increased range of 90km, and a new warhead that scatters 25 anti-tank mines.
Community content is available under
CC-BY-SA
unless otherwise noted.